By now most Flyer fans are familiar with Martin Biron's choke job yesterday against the Penguins. It's been a trying season for the 31-year-old with plenty of ups (stopping 73 of 76 shots in wins over the Islanders and Rangers last weekend) and downs.
The real question the Flyers front office needs to be asking themselves right now is: "Can Martin Biron backstop this team to a Stanley Cup?" Sure he played admirably in the playoffs last season, but his regular season numbers this year are dramatically worse than last year…
Martin Biron 2007-2008 Regular Season (62 games)
30-20-9, 2.59 GAA, .918 Save %
2008-2009 Regular Season (36 games)
18-12-5, 2.94 GAA, .907 Save %
The dip in Biron's stats is noticeable, but even more worry-some for Flyer fans has to be Biron's performance against division rivals and other Eastern Conference playoff-bound teams:
Biron vs. (08-09)
Devils: 2-0-1, 2.57, .909
Rangers: 1-1, 4.73, .882
Penguins: 1-2-1, 3.95, .855
Bruins: 0-1, 4.57, .875
Washington: 0-0-1, 0.92, .971
Montreal: 1-1-0, 2.51, .902
Florida: 0-1-0, 3.09, .889
Aside from a good game against the Caps and a few solid performances against the Devils, Biron has been awful when it matters the most this season. Are you willing to take a chance that he recaptures his '08 playoff form?
If Biron isn't the answer, then who is? First let's take a look at some potential trade targets from around the NHL…
Kari Lehtonen (Atlanta Thrashers)
There have been some rumors that the 25-year-old former #2 overall pick is available for the right price. For the Flyers that might mean giving up top prospect James Van Riemsdyk. Lehtonen has never really put it together in Atlanta but he is nowhere near reaching his prime. The crappiness of his team also needs to be taken into account when looking at his subpar Biron-esque numbers this season (11-18-3, 3.15, .908).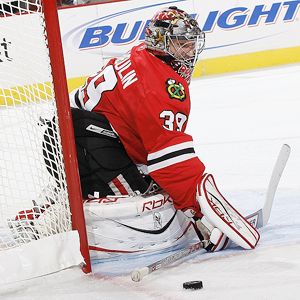 Nikolai Khabibulin (Chicago Blackhawks)
He may be 36, but Khabibulin can still play (17-5-5, 2.37, .924). Flyer fans should know firsthand what the man is capable of when he gets hot, as evidenced in the 2004 playoffs when he near single-handedly took down Philly in the Conference Finals en route to a Tampa Stanley Cup. But there is a main problem with any prospective deal…Khabibulin has a huge salary that the Hawks are just looking to dump at this point. With the Flyers so close to the cap this probably won't end up happening.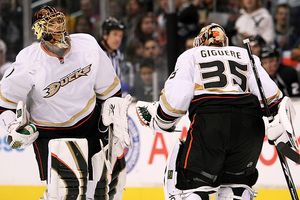 Jean-Sebastien Giguere/ Jonas Hiller (Anaheim Ducks)
Why are both Giguere (15-15-4, 3.12, .902) AND Hiller (14-12-1, 2.27, .922) listed? Because the Ducks feasibly could trade either one. The Flyers had two scouts at the recent Ducks-Kings game and it's realistic to assume they were taking a long look at Hiller. Giguere has been struggling this season since the passing of his father, but has shown signs of turning it around recently and his resume (former Conn Smythe trophy winner and Stanley Cup Champion) speaks for itself.
As for Hiller, he is younger than Giguere (He's 27, Jiggy is 31) and has clearly outplayed JS up to this point. He'd also be cheaper, but is entirely unproven in the playoffs.
There are certainly some appealing names on this list, but again the Flyers are so close to the salary cap that any major move would be pretty unlikely at this point. Then who should be the #1 guy heading into the playoffs for the Flyers?
Antero Niittymaki, when healthy, has been stellar for the orange and black this season (13-5-4) and he has shown the ability to carry the team on his back. His goals against average (2.59) and save percentage (.916, 14th in the NHL and above the likes of Luongo, Lundquist, Nabokov, and Kiprosoff – granted Niitty has played far fewer games) are both way better than Biron's.
Even more importantly naming Niittymaki the number one goalie will have a couple possible positive outcomes: either it pushes Biron to elevate his game and reclaim the top role or Niity steps up and becomes the unquestioned #1 this team has missed for so long. Also, considering there will be some viable options in goal in free agency this upcoming offseason (Tim Thomas, Manny Fernandez, and Niklas Backstrom just to name a few) you might as well find out if Niittymaki can be the starter before you start looking to spend money elsewhere.
Need more proof? Remember Biron's iffy numbers against the East elite? Take a look at how Niitty has performed against the same teams this season:
Niittymaki vs. (08-09)
Devils: 0-0-1, 1.86, .923
Rangers: 0-0-0 (43 mins), 0.00, 1.000 (13 shots, 13 saves)
Penguins: 0-0-1, 2.78, .893
Bruins: 1-0-0, 0.00, 1.000 (22 shots, 22 saves)
Washington: 1-0-0, 1.00, .971
Montreal: 0-1-0, 5.05, .839
Florida: 1-0-0, 1.85, .941
Granted Niittymaki has played fewer games than Biron which gives us less to look at statistically, his performance this season should at least earn him the chance to be the top guy. Nittymaki is the kind of goalie who if he gets hot, would be more than capable of stealing games for the Flyers which can be huge in the playoffs.
How do I know this? Just look at how Niittymaki played in the 2006 Winter Olympics, playing against some of the best hockey players the world has to offer: a 1.34 GAA, a .951 save percentage, a Tournament MVP award, and a silver medal. Some of the goalies Antero outperformed in the tournament: Evgeny Nabokov and Martin Brodeur.
The fans may be pushing for the Flyers to make a big deadline deal, but the answer to Philly's goaltending woes may already be right there at the end of the bench.
You might like these related articles: