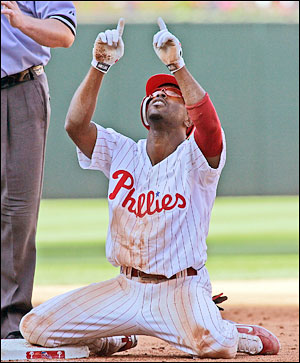 Jimmy. That's all you have to say in the Delaware Valley and most everyone knows who you're speaking of. That's right Jimmy, you're "the Man" this week, and you've earned it. Your double in the clutch clinched a second straight National League Championship for the Fightin' Phils.
Jimmy, you've predicted the future before, and you did once again this year as your Phils are headed to the Bronx to face the New York Yankees in the World Series.
No matter what may be said or written about you, we all know what type of player you are. The best part about that is you know exactly how we feel, even when we act in haste.
We have seen Jimmy grow from young and inexperienced athlete, to veteran, who leads his team on the field and in the locker room. Defensively Rollins is up there with the best, makes the routine plays look routine, and he makes the highlight shows with the tough plays. Jimmy has also shown how clutch he can be at the plate, adding to the juggernaut that is the Phils line-up.
Jimmy, you may not be the typical lead off hitter, however, what you do on the field isn't looked over by the real Philly fans. We may scoff at you when you swing at the first pitch. Then again when you slap it in the gap for a double we say to ourselves, "that's our Jimmy." We know you as well as you know us and that's what will forever bond us, that and a second straight World Series Championship.
Honorable mention goes to the newly acquired Will Witherspoon.
Could you have had a better debut than the one you had Monday night against the Redskins? An interception for a pick six and a forced fumble that led to more points, incredible. We already knew you were a pretty solid player but being thrown out there virtually blind, we didn't expect much.
Witherspoon intercepted a tipped pass by Redskin QB Jason Campbell and returned it for a Touchdown. Later in the game he rushed up the middle and forced a fumble which also led to points.
A great debut no doubt, but for now the Phils own this town Will, the prize goes to Jimmy.
Go Phils!!!
-Mike Santa Barbara
***Follow me on Twitter @Mike_SB***
You might like these related articles: