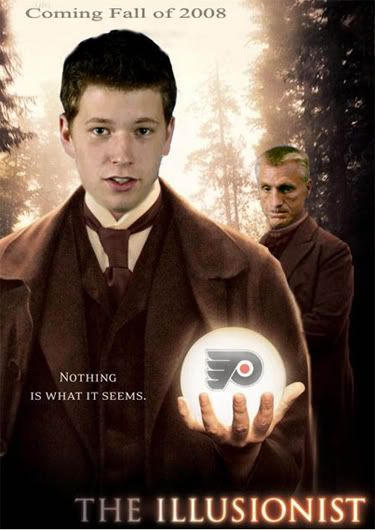 Today the Rangers flopped their way all over the ice. Richards whiffed on a check connecting with a shoulder only to get called for an elbow to the face. Avery also got into the action with a "boarding" late in the game. For all of the acting that went on, it was the magicians in the end that claimed victory; those magicians being rookie Claude Giroux and goaltender Martin Biron who continues to play incredibly down the stretch.
Giroux (see image) was known for his imaginative play with the puck back in Canadian Juniors when he carried his team to a QMJHL championship. After a long wait he is finally transferring his illusionist talents to the Flyers. Since his call up at the end of December he has been shocking fans with his impressive play with the puck, but even his own teammates get caught, lost in the optical illusion at times. It's almost humorous to see Simon Gagne misread an incredible pass by a rookie because he's not expecting it to even come his way. For people that don't know Claude Giroux's history please read up. I promise my own personal favorite Flyer will soon become one of your own favorites as he grows into a top notch NHL playmaker.
The other magician of the night was Marty Biron who continues to play on fire. His last 3 games now have been his best of the season, and his GAA continues to drop after a terrible start. So are we hoping Marty can carry us through the rough end of the season and into the playoffs? Of course we are. I'm not sure how everyone else feels, but Holmgren entered into contract discussions with both Biron and Knuble months ago. That's likely a sign that Marty will be a Flyer for years to come, but let's not count our chickens now. Right now we have no netminders signed for next season though Biron is making a strong case for himself. Instead let's just watch him play how we'd hoped he'd be all season; making relatively anything sent his way disappear. He gets 39 saves tonight against the Rangers in a 4-2 victory.
On top of the great Saturday afternoon the Flyers' Asham had himself a great night; 2 goals getting an assist from Giroux and new Flyer Carcillo each on both. Coach Stevens was classy enough to put Asham out on the ice with Richards and Carter at the end of the game trying to get the gritty bottom liner his first career hattrick on an empty netter with Lundqvist's net looking like a Sean Avery cardboard cut out, just begging to get a puck in the mouth. It wasn't to be, but with a nationally televised afternoon game against the Rangers tomorrow up in New York the Flyers are very satisfied with a 4-2 win. Niittymaki will play tomorrow, and hopefully Briere, who only saw 12:00 minutes of ice time tonight, will have more of an impact.
(image credits to Jules of hfboards.com)